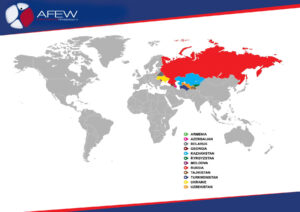 Welcome to the AIDS2018 page! In December 2014 the International AIDS Society (IAS) announced that Amsterdam, the Netherlands will host the XXII International AIDS Conference (AIDS2018). AIDS2018 will be held on 22-28 July 2018 and is expected to bring together some 18,000 participants from around the world.
AIDS2018 will be very special for AFEW and for the region where it works – Eastern Europe and Central Asia (EECA). It is important for EECA because it is the only region in the world where HIV epidemic continues to rise. And important for AFEW – we have been chosen by the Dutch Ministry of Foreign Affairs as the organisation best suited to engage EECA.
EECA region in which we operate includes the following countries: Armenia, Azerbaijan, Belarus, Georgia, Kazakhstan, Kyrgyzstan, Moldova, Russia, Tajikistan, Turkmenistan, Ukraine, Uzbekistan.