AFEW's Statement: Do not Abandon the HIV-Fighters in Russia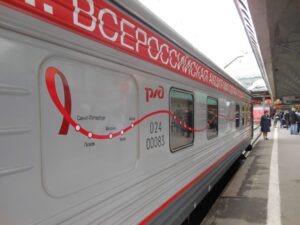 It is urgently needed to continue working in Russia on the prevention and treatment of HIV. Now that the health situation in Russia is becoming critical, solidarity with the Russians and Russian non-governmental organizations (NGOs) is more necessary than ever. Policymakers, international donors and aid organizations must focus on what is still possible to combat HIV.
One million HIV infections
Russia has the highest number of new HIV infections in Eastern Europe and Central Asia. In January 2016, the number of people living with HIV exceeded the limit of one million. It is estimated that there are still 500,000 more people who do not know their diagnosis. Within this group, it is mainly the injecting drug users who contract HIV. This is the case with no less than 54% of the new HIV infections. Just like sex workers and lesbians, homosexual men, bisexuals and transgenders (LGBTs), this risk group faces stigmatization and discrimination that prevents from treatment and care.
Pragmatism works
NGOs are crucial to contain the HIV epidemic in Russia. It has been proven worldwide that this is successful. With the Dutch approach applied, no new HIV infections among drug users are added in the Netherlands. Among sex workers, there are now even fewer sexually transmitted diseases than among the students. A pragmatic and tolerant policy works everywhere.
Strengthening the capacity of local NGOs enables them to reach the groups that they work for and provide access to HIV care. Communication between local government and NGOs also gives drug users, sex workers and LGBT people a voice in developing a joint fight against the HIV epidemic.
Not easy
Unfortunately, Russian legislation against NGOs does not make it easy to come to a constructive approach. But it is possible. There are strong, knowledgeable and motivated organizations that stand up and provide care and assistance with limited financial resources. They need (financial) support and solidarity, because in almost no other Eastern European country international support for HIV control has been reduced so far. Moreover, after about 17 years of providing support in Eastern Europe and Central Asia, AFEW Network has learned that one should always continue to point out to the Russian authorities their responsibilities and the importance of NGOs.
Continue with HIV control
If we continue to only observe from a distance, the already difficult situation in Russia will deteriorate even further, with disastrous consequences for global health. We should not let this happen. There are numerous specialists who have the required knowledge and local authorities who simply want the best for their citizens. We therefore continue to focus on conducting dialogue and supporting grass roots organizations in Russia. For example, in February 2018 a delegation from Russia came to the Netherlands to learn how the government can give subsidies to NGOs. From trust building with the local Russian government and from humanity and pragmatism, much is still possible. It is with this in mind that we call on policy-makers, donors and aid organizations not to abandon the Russian HIV-fighters.